Anmar Pretorius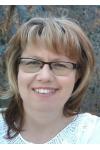 Position:
Senior Lecturer, School of Economics
Institution:
North-West University
Anmar Pretorius is a senior lecturer in the School of Economics at North-West University. She currently teaches Economics, Econometrics and is also coordinating the honours research essays. Anmar has published both in local and international journals and has presented various papers at local and international conferences. Her doctoral study investigated South Africa's financial market integration with the rest of the world. Previously she lectured at the University of the Free State, UNISA and Monash South Africa.