Monique Reid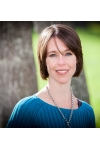 Institution:
Stellenbosch University
Expertise:
Monetary policy
Monique holds a PhD in Economics from Stellenbosch University. She began her career as a monetary economist with a strong interest in institutions, policy, and public behaviour. Living and working in an emerging market economy with some strong institutions and well-developed financial markets, but also extreme levels of inequality, inspired her to pursue a range of approaches to further her understanding of behaviour and recommendations for policy.
She has published in a range of local and international journals, and participated in policy relevant research conferences, workshops, and fellowships. She has also interacted with institutions outside of academia, such as the South African Reserve Bank and the South African Bureau of Economics Research.
She has lectured in macro-economics and monetary economics at the Universities of Stellenbosch and Cape Town, as well as being a guest lecturer for monetary theory and monetary policy at Technische Universität Darmstadt. She also taught an online course for UNITAR (United Nations Institute for Training and Research) on 'Banking Regulation and Basel III'.
Her interests lie in monetary economics and macroeconomics more broadly, with a particular focus on policy. Besides collaborations with other economists, she has also worked in inter-disciplinary teams, publishing papers with both social scientists and a data scientist in recent years.